Accomplishments Year 2000
Purchased and renovated building at 405 N. 2nd St. (Moved again to new building fall 2001)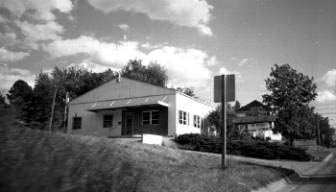 News Coverage
News coverage throughout the year in local and regional media, including FF Ledger, Weekly Reader, The Source, Ottumwa Courier, KMCD Radio and 3 TV pieces by KTVO
Fixed drainage problem and built patio area.
The City of Fairfield provided the labor and equipment to excavate and build a patio area on the east side of the building, also fixing the drainage problem.
$4,200 RACI Grant received from the state for renovation projects. 
Work already completed with those funds include insulating and sheetrocking of the inside walls and a small concrete patio area on the west side of our building,  the final project using these funds is rebuilding the bathrooms, which took place Spring 2001.
$10,800 Grant from the Jefferson/Washington/Keokuk Counties DECAT project. 
DECAT is a DHS project that distributes funds locally. The purpose of this grant is to partially fund the salary of "Program Director".
In-kind Donation from Sennheiser USA/ DAS (California) of approx. $20,000 worth of sound equipment. 
16 Speakers and 1 Power Amplifier were donated in late December 2000, and arrived Jan 12th 2001. We are currently looking for more amplifiers to utilize the full donation.
Current Activities
Regular breakdancing sessions
Daily DJ-ing sessions
Traditional recreational activities including 2 pool tables, a foosball table and a Nintendo64
Future Projects
Computer Lab for audio and video production, as well as graphic design and web design.

(Federal Eduction Grant Fall 2001)

Recording studio for local music producers.
Studio space for fine artists and fashion design.
Radio Station

(Fall 2001, application to FCC, fundraising for equipment)

Develop internship programs with local employers to extend the vocational programs.
Sound System - Securing amplifiers to power the DAS speaker donation.

(Winter Fall 2001, Custom Enlightened Audio)

Additional Space - We've already filled our current space. To accomplish more projects, we're need to expand. We intend to add a second story to our existing building. This space would be dedicated to art activities.

(Bought New Building Fall 2001 - 116 N 2nd St.)