Roland Wells: Roland is a long time Fairfield resident, with short, intermittent absences to Australia and various US cities. As a co-founder/co-director of the Beatbox, he spends many long hours instructing classes, handling administrative tasks and keeping everything in order. At times Roland is known to make an appearance break dancing, which everyone enjoys. He likes to spend free time at home working on internet-related technologies as well as taking day trips to Iowa City.


Julie Babb: Moving to Fairfield in the mid-eighties, Julie, along with her husband Edward, has raised two children in this community and is committed to youth's needs here. As one of the founding partners, she handles administrative tasks and accounting as well as organizes weekly trash pickup and various other community oriented activities. One of her favorite activities at the Beatbox is interacting with kids on a daily basis. Julie enjoys spending time at her rural home and star-gazing on clear nights.


Caleb Flynn: Growing up in and around Fairfield, Caleb attended the Fairfield School District from kindergarten until his graduation from high school. He enjoys spending time at the Beatbox helping kids learn to break dance and helping Roland with his web and video classes whenever possible. His responsibilities include helping the staff and patrons with technical issues and maintaining the internal network as well as providing lab assistance to the BTech students. Caleb spends time relaxing by reading and watching movies, including his one of his favorites, Snatch.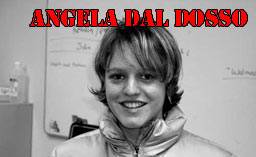 Angela Dal Dosso: Born and raised in Verona, Italy, Angela moved to the United States in 1990 to attend UCLA. Angela volunteers long hours at the Beatbox, putting her MBA to use as the "keeper of the books". She takes responsiblty for all the financial accounting and bookkeeping the beatbox can come up with...which is a lot these days. Angela spends her "free" time translating for her fathers company in Italy and traveling around America's heartland.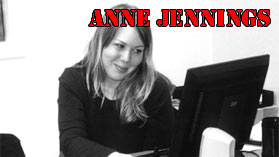 Anne Jennings: Having never been to Fairfield before her introduction to the Beatbox in July 2002, Anne has become one of the family. After graduating from the University of Iowa she was hired as a Vista Volunteer to use her skills with the English language to seek funding by writing grants, and has proven herself invaluable. In her free time Anne likes to read funny books like A Confederacy of Dunces, watch non-sappy movies, and dance to happy live bands like Troubled Hubble.
Jamie Babb: A junior at Fairfield High School, Jamie is one of two "regulators" that keep The Beatbox in order during the busy after-school hours. When he's not answering phones and maintaining Internet lab etiquette, he enjoys playing basketball and listening to rap music.
Susan Kraft: Regulator #2 and a freshman at Fairfield High School, Susan is dedicated to The Beatbox on and off the clock. She helps Julie and Roland with data-entry and other administrative tasks. She likes basketball, football, and the movie A Walk to Remember.